Statistics
---
Total online: 1
Guests: 1
Users: 0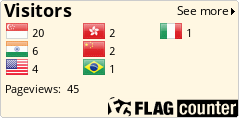 Home
»
2020
»
January
»
31
» How do you feel living in Russia
---
22:47
How do you feel living in Russia
https://www.quora.com/How-do-you-feel-living-in-Russia-Moscow-after-moving-from-a-developed-western-country/answer/Olivier-Vandebroucke
How do you feel living in Russia (Moscow) after moving from a developed western country?
Olivier Vandebroucke, studied at University of Namur (2011)
Answered December 16, 2019 · Upvoted by Yaroslav Mar, lived in Moscow (1995-2019) and Nikita Rogozin, lives in Moscow (1984-present)
Belgian here. Before living in Russia, I lived in France, Germany and, of course, Belgium.

When I moved to Moscow in 2014, I felt like I had stepped 20 years in the… future. You've got smartphone apps for everything, from pre-choosing your products at a grocery to managing your individual company. Public transportation is of a stellar quality. Even in provincial cities (I've spent a couple months in Perm, Saratov and Astrakhan), the last of the crappy-looking Stalin era apartment block has a 100mbps Internet connection for every tenant. Bank transfers are done within seconds, you don't have paper checks that are processed in 3 days like in, for example, "developed Western" France. Shops are open ALL THE TIME (that's why Russia has so little unemployment compared to Western Europe: our shops are opened from 9 to 18 with a 2-hour pause, so you hire one worker per task. Russian ones are opened from 8 to 22, or 24/7, which means that you hire 2 to 3 workers per task). Registering your SIM or credit card is lightning fast. I've never seen this sort of efficiency in Western Europe.
Category:
POINTS OF VIEW
|
Views:
16
|
|
Calendar
« January 2020 »
Su
Mo
Tu
We
Th
Fr
Sa
1
2
3
4
5
6
7
8
9
10
11
12
13
14
15
16
17
18
19
20
21
22
23
24
25
26
27
28
29
30
31
THE FIRST WEB STEPS
(!)
THE FIRST WEB STEPS
LIFEARMY.NAROD.RU
REGIONAL SITES:
«MAIN INFO, RUSSIA»
«CHINA»
«POLAND»
«CZECH REPUBLIC»
«EUROPE»